Last Updated: Aug 13, 2020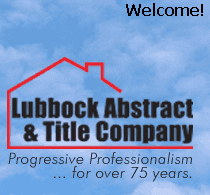 Lubbock Abstract & Title Company is committed to providing the best customer service and efficient closings in the residential and commercial industry. Our client relationships, our industry expertise, and our professional service have made us one of the most reliable title insurance companies in West Texas.

We have been in the title insurance business for over 75 years and have established solid relationships with other companies in the industry. Our service does not stop when the premium is paid. We follow up on post-closing items with the utmost care and in a timely manner when you choose to either resell or refinance. The speed, accuracy, and completeness of our service are our highest priorities.

If you have abstracting or title insurance needs, please don't hesitate to contact us. We look forward to hearing from you today!