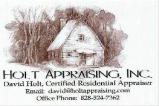 Last Updated: May 26, 2022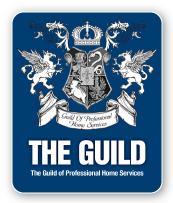 As a licensed appraiser, I have the education and qualifications to provide the type of reliable home values that banks and major lending institutions require for home loans. My investment in technology means faster turn times for you and lower costs for everybody. I take pride in providing personalized customer service whether I'm on the phone, sending e-mail or communicating through this website which you can use 24/7.
As a lifelong, committed resident of the area I have in-depth knowledge of the real estate market and geographic aspects of our local area. I am eager for your business and ready to offer my services for your appraisal needs.
Thanks for taking time to visit Holt Appraising, Inc. If you have any questions, don't hesitate to contact me.